Welcome to Andrew Pedersen Orthodontics! Choosing to improve your oral health with orthodontic treatment is a big decision, and we're excited to help you take the first step towards the confident smile you deserve. If you're unfamiliar with the orthodontic process, things can seem a little overwhelming at this stage, but we're here to walk you through it. We appreciate the trust you've placed in our team, and we want you to feel confident in our care. That starts with your initial visit to our York office! 
Your complimentary consultation
The first appointment you have with us is also one of the most important ones. It gives us the chance to meet, get to know each other a bit, and go over any concerns you have about your smile. You'll be introduced to some of our talented team and shown around the office to help you feel more at ease. It's important to us that you feel welcomed and cared for from the moment you walk in our door!
We'll want to collect some diagnostic records from you at this point. These records will normally include:
digital, panoramic, and cephalometric X-rays and tracings

digital iTero impressions 
The diagnostic records give us a better understanding of your needs by showing us a more complete picture of your teeth, soft tissues, and the underlying bone. We'll also review your medical and dental history before Dr. Pedersen performs a thorough oral examination. This is a comfortable and pain-free look into your mouth for any orthodontic issues that may indicate the need for treatment, whether now or in the future. After reviewing the diagnostic records and your exam, one of our doctors will go over our findings and talk to you about any treatment recommendations. They'll also answer any question you have at this point. 
We never want you to feel as though we're rushing you through your appointments, especially your first one! This initial visit with us will normally last about an hour, which gives us plenty of time to perform the exam, discuss your diagnosis, and address any questions or concerns you may have at this point. We'll also go over important topics such as:
any oral issues you are experiencing

if treatment is recommended right away

what treatment options are available to you

an estimate of how long we expect your treatment to take

the total investment required for your new smile

any payment or financing options we offer
If orthodontic treatment is indicated in your case, we'll arrange an appointment for you to come in and review your custom treatment plan. We'll also set up financial arrangements at this point. 
Investing in your new smile
At Andrew Pedersen Orthodontics, we believe everyone should have access to the orthodontic care they need. We're proud to provide our patients with world-class service and affordable treatment options! Once you've decided on a treatment plan with our doctors, we'll walk you through the investment needed for your new smile. This investment will normally include:
your diagnostic records, which consist of various X-rays, digital study models, and a personalized treatment plan outlining your treatment objectives and options

the active treatment fee for comprehensive treatment with braces or Invisalign including all appliances and procedures performed in the office during this time

one set of retainers provided at the end of each phase of treatment

follow-up retention visits for six months to one year
As a courtesy, we offer a variety of payment options to meet your needs, including:
a full-payment discount

no-interest financing with a low down payment and low monthly payments

multi-family member discount

third-party financing
For your convenience, we also offer an automatic draft from checking accounts, savings accounts, flex spending cards, or credit cards. If your dental insurance covers treatment, our financial office will prepare your insurance claims to ensure you obtain your maximum orthodontic benefit.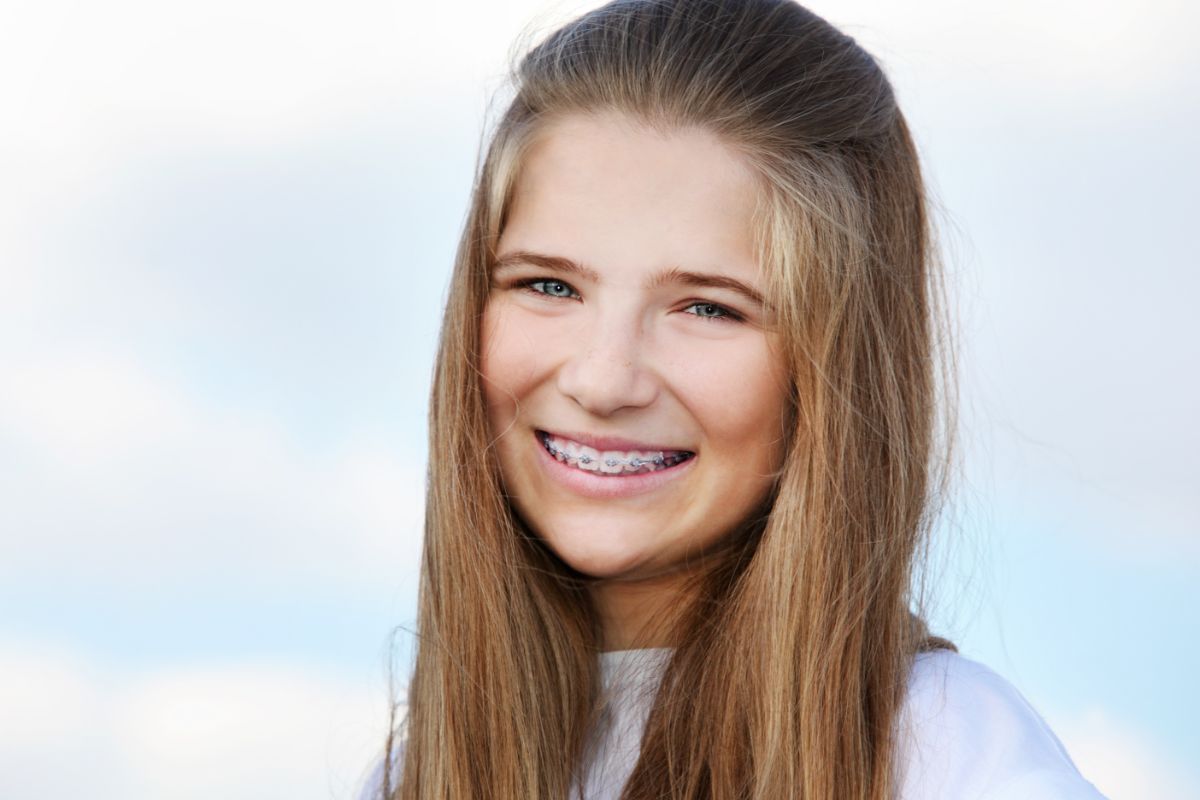 Orthodontic evaluations for children
Children and adolescents are the ideal candidates for orthodontic treatment. As a matter of fact, the American Association of Orthodontists recommends all children receive an orthodontic evaluation by around the age of seven. This gives us a chance to identify any present issues and the possibility of other problems developing in the future. Many orthodontic problems are easier to correct when we catch them before all the permanent teeth have erupted and the jaw bone stops growing. We're big fans of childhood evaluations! They allow us to take a proactive approach to treatment, which often leads to better results in the shortest amount of time possible.
Most of the time, a child's first appointment will not involve a recommendation for immediate treatment. If our doctors feel interceptive treatment is in a child's best interest, it can prevent greater complications from occurring later and reduce the length of treatment in the long run. If no treatment is necessary at the time of the appointment, we may recommend a period of supervision or "observation" instead. This allows us to monitor a child's dental growth, development, and the eruption of their teeth. There is no charge for these recall visits.
Orthodontic consultations for adults
We hear from adults every day who are worried that the chance for a beautiful smile has passed them by. This couldn't be further from the truth! You're never too old to take advantage of everything orthodontics has to offer, but adult consultations are slightly different from an adolescent. The teeth and gums must be healthy before we attempt any kind of tooth movement, so we must first determine that there are no existing issues with the patient's oral health. For this reason, we may recommend a periodontal evaluation for adults before treatment. This will ensure there is no evidence of gum disease, which can weaken the periodontal tissues and make it difficult to safely move the teeth.
Find your best smile with Andrew Pedersen Orthodontics
Your smile is as special as you are. Don't trust it to anything less than an expert! Our doctors have decades of experience between them in creating beautifully aligned smiles that look great and feel good, too. If you haven't already scheduled a FREE consultation with us, get in touch today! Your best smile is waiting for you here.